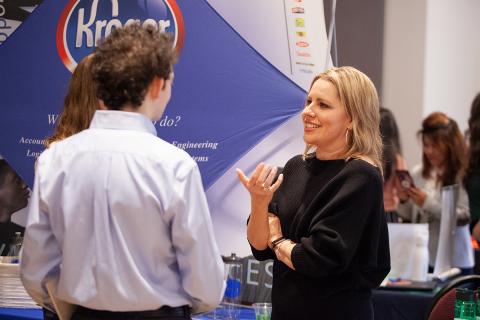 It's easy to make assumptions as you walk around a career fair, limiting the types of employers you interact with to a particular industry or well-known brand with fancy giveaways. Can you ever really have too many free pens? However, you never know what opportunities are out there until you take a chance and chat with a recruiter. You might find out that there is a great internship that fits your skills and passions that you never would have considered if you didn't stop and introduce yourself. For example, if you stop by the Kroger table at the upcoming Internships and Summer Jobs Fair, you'll meet Tina Ford (HR generalist) and learn all about their general merchandising internship in Portland and how they love to hire former interns for full-time roles as assistant buyers and planners.
At the fair, be a career explorer who asks good questions while showing genuine interest in the person you're talking to. Every interaction at a career fair has the potential to expand your professional network and your career possibilities. Employers who come to UO career fairs love to meet and hire Ducks. They want to help you be successful in the application process and have great tips to share. 
Speaking of great tips, Tina joined us for our Career Explorer YouTube series to share about her career journey to Kroger and her advice for UO students looking to apply for their General Merchandising internship. Here are some of our key takeaways that might help you get ready to ask your own questions at the fair.
Watch the full UO Career Explorer informational interview with Tina Ford of Kroger.
Words of Career Wisdom:
Don't burn bridges as you go through your career because you never know what's going to wrap around. (4:00) 
My advice for people who are graduating is to take advantage of opportunities. I think sometimes people get really set on a specific path or goal and aren't always open to where that could lead. (17:24) 
The more work you put into your toolbox in terms of skills and knowledge, the more you're going to be able to move up and run different businesses. (19:03)
Behind the Scenes at Kroger's Summer General Merchandising Internship 
We do a summer internship program where the interns are placed in a buying, or a planning office and they are given a project to work on over the course of the 10 weeks and you present that at the end of the summer to the general merchandise group. In addition to that, interns attend various classes meeting with different executives and they get to know a lot of day-to-day of what it looks like working in a buying office or a planning office. (9:49)
We've structured this internship program in a way that we hire from the internship program. We're looking for people who are really interested in continuing with Kroger in a buying or planning role. So, potentially you could get a job offer at the end of the summer based on your performance and your interest. (10:29)
Both part-time and full-time associates are eligible for tuition reimbursement up to $3,500 a year and then a total of $21,000 in a career with Kroger. It's very easy to get reimbursed and the company really values students. (08:36)