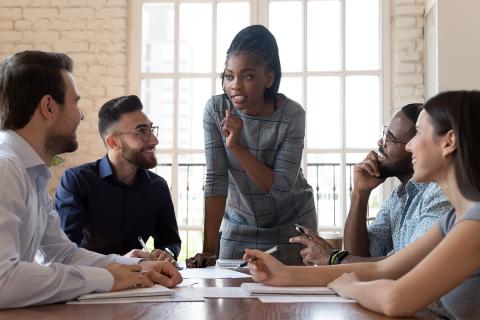 Looking for an awesome job after graduation or a summer internship? No matter your major, if you have an interest in sales, marketing, human resources, operations, customer service and support, finance, consulting, management, or other business-related roles—the Business Careers Fair is the career fair for you! Join us via Handshake on October 22, 11:00 a.m.–1:00 p.m.
At the fair, you can talk directly with recruiters hiring in:
Sales: Working in sales means you're responsible for communicating to others about your company's products or services. 
Management: Management trainee programs give new college grads an opportunity to learn the nuts and bolts of how an organization operates. 
Retail: It takes all kinds of roles to help run a successful retail operation, from deciding what goes on the shelves to overseeing operations, supply chain, technology, or other areas.
Commodities trading: Oregon is a major hub for the buying and selling of lumber.
Customer service: You are the first person a customer meets when they need help, providing them with solutions to their problems.
Recruiting/account management: Is your dream job helping others connect to their dream jobs? Recruiters connect job seekers to opportunities and employers to their next great hire.
Finance: Bring your love of problem-solving and strong math or finance skills to a career in financial advising or commercial banking.
If you're trying to decide if this is the right fair for you (there are THREE to choose from this fall!), let us help you bust five myths that might be holding you back from signing up!
Myth #1: You have to major in business to work in a business role.
FALSE. Most of the jobs featured at the fair are open to a variety of majors. In fact, many of the employers we work with understand the value of a liberal arts education and want students from diverse academic backgrounds! You do need to be ready to demonstrate how your program of study and extracurricular experiences have given you the skills needed to be successful like:
Curiosity: You enjoy learning about new things and adding to your arsenal of knowledge, skills and abilities
Growth mindset: You believe that you can learn more or develop your abilities through hard work and perseverance
Problem-solving: When someone has a problem, you are the first to raise your hand to help find a solution 
Connecting with others: You enjoy meeting new people and learning about their goals and desires, and how you might help them.
Setting and achieving goals: You enjoy setting goals for yourself and achieving them.
Myth #2: It's too early for me to be talking to a recruiter about jobs after graduation; it's only October!
FALSE. If you're a junior or senior, fall is the best time to start exploring options for a summer internship or job for after you graduate. Many employers interview candidates and extend offers before winter break, so now is the time to check out potential opportunities, connect with recruiters, and submit applications. The Business Careers Fair is for any student who might be interested in a job or internship in a business environment—or wants to learn about potential future opportunities, even if you're not ready to apply right now.
Myth #3: You have to be an extrovert to succeed in a business role like sales, management, or customer service.
FALSE. You do need to enjoy working with people, but you don't have to be an extrovert to work in these fields. There are many successful introverted businesspeople who use their great listening abilities to connect with others.
Myth #4: I'm interested in a career in the arts, nonprofits, or government — a career in sales or management isn't for me.
FALSE. No matter your future career interests, chances are that you'll be called upon to convince others to support your project or program or to manage a team.
Knowing how to influence others (especially those who do not report to you) and convince them to support you is a key facet of sales training, while understanding how to manage people from diverse backgrounds, opinions, and skill levels is a focus of management training.
Dig into the UO alumni lists and you'll find folks from all kinds of career paths who got their start in sales or management. Many of the employers who recruit at UO offer in-depth training programs that will benefit you not only in your current role but in your future roles as well.
Myth #5: There are not any employers at the fair who are hiring in places I want to move to. 
FALSE.  There are currently more than 30 local, regional, and national employers attending the fair hiring for positions all across the US, including:
Other employers attending the fair include: E. & J. Gallo Winery, JP Morgan Chase, Mike's Hard Lemonade, T-Mobile, Target, The Hershey Company, and more. 
For a complete list of employers featured at the fair—including filters to help you search by job type, industry, region, majors, or other criteria, check out Handshake.
So what are you waiting for? Get registered today to find your future in the business sector!