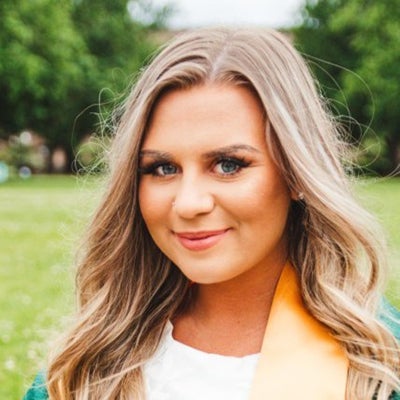 Insight Global isn't a place to simply have a job, it's a place to build a career. One that you're proud of; one that energizes and motivates you.  Every employee starts out entry-level as a Recruiter and is taught from the ground up, meaning you have to begin here to be promoted there. UO alumna Syrina Revis, BS '19, is doing just that! 
With the Spring Career Fair right around the corner, and Insight Global eager to meet and interview their next cohort of ducks, we caught up with Syrina to ask her to reflect on her career journey so far with Insight Global and give for some advice for students applying to job roles different than what they majored in, and companies outside their comfort zone.
Name: Syrina Revis
Graduation Year: 2019
Majors: Human physiology, sociology 
Current Job: Professional recruiter at Insight Global
What did you study at the University of Oregon, and how did your time at UO prepare you for your career?
I was a human physiology and sociology student at the UO, and primarily focused in pre-emergency medicine. I would say my science degree specifically helped me develop intangible skills such as critical thinking, effective communication, and professionalism. On the sociology side, it taught me to use analytical thinking and problem-solving skills to understand people and society from a holistic scale. All of those skills have directly reflected in my day-to-day now, and have helped me prepare for the challenges of the work force.
What attracted you to work at IG?
The people, and the leaders especially! It was easy to notice by my first interview in the Portland office specifically, that the people I met would be amazing leaders for me to learn from in my first job out of college. They truly took time to get to know me and connect on a personal level, which helped me feel comfortable stepping into a completely new environment such as staffing. I felt like the management here truly takes time to understand us, our purpose/passions, and will help us personally and professionally to achieve our goals, and there is nothing more beneficial than having leaders who care. Having influential leaders early in my career was something I looked for in my first professional role, and Insight Global has provided me with not only that, but also strong female leaders which I have had the opportunity of learning from which has been so impactful on me and my personal growth the last few years.
What do you like best about the company culture at IG?
It may sound repetitive, but it is true— our leaders, our co-workers, everyone around you at IG truly cares about developing each other—and becoming the best versions of themselves, so that we can show up 100% for the people we represent and work with every day. Our culture is truly what has kept me with Insight Global for so long, because they have focused so much on fostering a strong company culture, and valuing their people which in turn that only helps us all personally grow comfortably and continuously as professionals. I have learned so much about myself here, and it is because Insight Global fosters a culture designed for growth.
What are you responsible for in your current role?
Currently I am a professional recruiter focused within the technology industry. I lead full lifecycle recruiting, responsible for sourcing candidates, screening their skillset, goals, and rate expectations, then submitting them to associated positions and providing detailed feedback and offers from there. I also work with clients directly alongside account managers to help provide current candidate market analyses and assist with qualifying new openings and their requirements as well.
What skills do you need to be successful?
To be successful, first and foremost you need to have a growth mindset. The staffing industry is constantly changing and very unique compared to anything you probably studied—and stepping into a new field is always an adjustment! Being able to learn along the way and take every challenge as an opportunity to grow is the best skill you can have. Outside of that, communication is key—having the ability to communicate effectively, and maintain and build strong relationships is instrumental in being successful within our industry.
Did internships, volunteer, leadership, or other work experiences provide an advantage in being hired for your first position out of college? If so, in what way?
I would say my background may seem quite unique coming from the science field, but it is still extremely relevant. I used to work as an EMT in college part-time, and that taught me how to care for people, actively listen to them and understand the problem, and then be able to provide assistance that best fit their needs. Now, I get to continue helping people, but in a different way! I have the opportunity to work with a variety of people nationwide, learn their skillsets, goals, and ambitions, and then get to assist in finding them something that they enjoy doing every day! It is something I never expected to do but has been absolutely rewarding in every way.
What advice would you give to students as they're figuring out what's next after college?
It is OK to do something completely out of your comfort zone or step out of the normal career path you had originally planned for yourself. I could have never expected the trajectory of my career and ending up in the staffing industry—but I could not be happier I made the decision to take the leap of faith and try something new. You never know what you will be good at until you try, and effort is everything. If you put in the effort, and you will see results.
Any last words of wisdom you'd like to share with other Ducks?
Having a strong work ethic is truly the key to success in anything you do. Always apply your entire self to everything you do—whatever that may be—and it will reflect in the results!
---
To learn more about jobs and internships with Insight Global, visit with recruiters at the Spring Career Fair on April 14 in the EMU.  NOTE: Have your résumé handy, they will also be participating in Fair Interview Day on April 15—they will give out first-round interview invites at the fair!