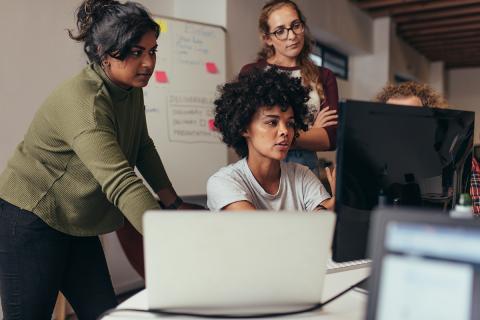 Interested in exploring a future career in technology? Maybe you're not a technical major and you're wondering if there is a path for you into tech. We've got you covered with our upcoming Tech Careers Fair on October 22, noon–2:00 p.m. via Handshake. If you're curious about a career in tech, there are roles for you to explore at the fair, regardless of your major. For a complete list of employers featured at the fair—including filters to help you search by job type, industry, region, majors, or other criteria, check out Handshake.
If you're trying to decide if this is the right fair for you, let us help you bust five myths that might be holding you back from signing up!
Myth #1: You have to major in Computer Science to work in tech.
FALSE. While it's true that some of the jobs featured at the career fair require a major in data science, computer science, or math, there are lots of opportunities in tech for students from non-technical majors. For example:
TheMathCompany is hiring students from any major to join their paid three-month training program in data analytics; after completing the program, you'll work on client projects. 
Trimble is looking for students studying computer science, visual design, psychology, or multimedia to join their UX (user experience) internship program and business students for their program management office internship program.
Myth #2: It's too early for me to be talking to a recruiter about jobs after graduation; it's only October!
FALSE. If you're a junior or senior, the fall is the best time to start exploring options for a summer internship or job for after you graduate. Many employers interview candidates and extend offers before winter break, so now is the time to check out potential opportunities, connect with recruiters, and submit applications. The Tech Careers Fair is for students interested in a job or internship in a technology company—or students who want to learn about potential future opportunities, even if you're not ready to apply right now.
Myth #3: The tech industry isn't a good fit for my interests, skills, and abilities.
FALSE. Here are some skills or attributes that are a great fit for careers in tech:
Teamwork: You know how to be a great team member and collaborate with others to complete a project.
Critical thinking and analysis: You know how to analyze a problem from various angles, ask insightful questions, and identify root causes and patterns. 
Problem-solving: When someone has a problem, you are the first to raise your hand to help find a solution.
Resourceful: You are a self-starter; when you don't know the answer to a question, you know how to go about finding resources that will help you get it.
Communication: You can clearly summarize and communicate ideas to both technical and non-technical audiences.
Myth #4: Technical skills are the most important attribute for success in a tech role.
FALSE. Ask most managers what the most important skills are for success, and they'll mention communication, teamwork, and problem-solving skills—all skills that students in the liberal arts gain through their time at university. (But yes, you may need proficiency in one or more programming languages or software platform, especially if you want to be a software engineer. Read the job description carefully to see if there are technical requirements for applicants.)
Myth #5: Tech Careers mean programming.
FALSE. We do have employers hiring for software developers and engineers, but there are lots of other roles that don't focus on programming at all, including business.
Are you an English major or have you studying writing AND love exploring technology? You could be a technical writer responsible for creating technical documentation and other kinds of learning content for users.
Are you a business major who loves working with data? Bring your mad Excel skills to a product marketing and business analytics internship.
At the fair, you can talk directly with recruiters hiring for roles in:
Data analytics
Product marketing and business analytics
Program management
Quality assurance
Revenue operations
Software development and engineering
Technical consulting and implementation
Technical writing
User experience
So what are you waiting for? Get registered today to find your future in the tech sector!