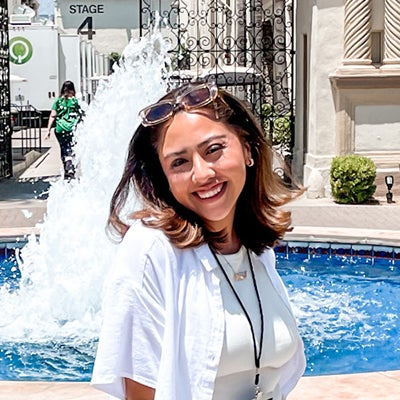 A turbulent year for many of us, 2020 was filled with lots of shifts to virtual workspaces and online classrooms. It was a time of flexibility and adaptability, which is what alumna Jennifer Mendez-Ruiz showcased through her experience. We caught up with Jennifer to get her advice for current students and more insight on her career journey.
Name: Jennifer Mendez-Ruiz
Graduation Year: 2020
Major: Journalism and communication, Spanish literature and culture
Current Job: Publicity assistant at Paramount
What is one thing you learned or experienced during your time at the UO that is helping you be successful on your global career journey?
The UO Admin internship program! The UO Admin internship truly shaped my skills to prepare me for my first corporate role. The program was my first introduction to working in a formal office environment, navigating project management and deadlines, handling sensitive information, understanding organizational charts and employee structure, and so much more. I hope the program is still going strong and students are able to have a similar experience and takeaway. I feel so lucky to have been part of the first cohort.
What words of advice do you have for students who want to live, work, or study around the world?
Take the leap of faith, build your community, and believe in yourself.
What is one thing you wish someone would have told you before you graduated about the world of work, job searching, or career paths?
I wish someone would have told me that it is OK to graduate and have no set career path. If you are able, take the time to learn more about your passions and aspirations. Figure out what it takes to get there and invest in yourself, either through networking, online courses, or continuing your education. There is no set timeline for when you should have everything figured out.
---