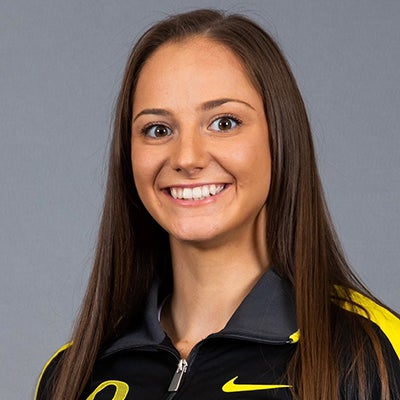 The University of Oregon is known for its amazing student athletes, many of which go on to do great things. Riley Anne Ovall, former UO track and field athlete, is no exception. After graduating, Riley Anne has gone on to cultivate a personal brand surrounding her passion for javelin and healthy living. Her experience as an athlete and drive for content creation provides some great perspective for current students. 
Name: Riley Anne Ovall
Graduation Year: 2021
Major: BS, general social science  
Current Job: Candidate experience and content specialist, Avenica
What is one thing you learned or experienced during your time at the UO that is helping you be successful on your global career journey?
Something that made a huge impact for me was the different cultures and backgrounds of everyone I met at the UO. My best friends were from countries and cities across the world. Getting to know fellow Ducks from so many places has helped me feel comfortable exploring this beautiful planet. In addition, my time on the track team taught me how to represent the UO with pride and respect. I have brought the lessons of being on time from coach Rad to every experience. The ability to pursue elite goals taught me that I am capable of achieving incredible things even after graduation. In addition, I had the opportunity to work for UO Advancement and UO Alumni Association my senior year. In the midst of COVID, I learned how to operate in a virtual professional environment. I credit these on-campus experiences directly for giving me the tools for my current remote job. My supervisors focused on professional development and practicing how to get hired. 
What words of advice do you have for students who want to live, work, or study around the world?
There is never going to be the perfect time to go for it. Once you start exploring, each new adventure will feel more natural. This is our one life on the planet, might as well experience it.
What is one thing you wish someone would have told you before you graduated about the world of work, job searching, or career paths?
I wish that I knew more about the value of experience. It can seem overwhelming to balance work and school work, but it will pay off majorly when applying for jobs. I wish I would have started working in career development roles sooner in on-campus jobs and internships. I also would tell my freshly graduated self to choose a role where I have the most opportunity to grow.
Something you wish we had asked that you want to share? 
Some of my best memories during my time at the UO was exploring career options! I would say that exploring different majors and classes paid off big time and I am so grateful for the opportunity to explore at the UO.
---