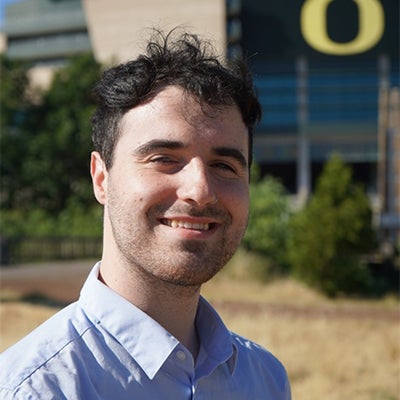 Taking a "Year of Service" (or two!) after you graduate is a rewarding opportunity for you to gain valuable experience, explore career opportunities, and contribute meaningfully to the world. Daniel Brown, UO '21, is doing just that!
We caught up with Daniel to learn more about his new career as an AmeriCorps Member for City Year Los Angeles. 
Name: Daniel Brown
Year: Class of 2021 
Major: General Social Sciences: Crime, Law, and Society; minor in Legal Studies. 
Current Job: AmeriCorps Member at City Year Los Angeles.
What did you study at the University of Oregon, and how did your time at the UO prepare you for your career? 
I studied general social sciences: crime, kaw, and society at the UO. My time at UO prepared me for my current career because I learned the skills necessary to be an independent person and I developed a great work ethic.
What attracted you to do a year of service with City Year? 
City Year's mission and goals are what attracted me to work here. I have always had an interest in doing work that makes a difference so City Year naturally garnered my interest. The ability to make a direct impact by working with the students and contributing to educational equity are the most important factors in my desire to work here.
What do you like best about the company culture at City Year? 
What I like best about the company culture is everyone's passion to serve. All of us have a common interest in doing our best work to contribute to educational equity and to make a difference. 
What are you responsible for in your current role?  
As a first year AmeriCorps Member at City Year, I am responsible for a range of things. One of the main things I do is assist teachers in multiple math and English classes with ninth graders. In the classroom, I build and develop relationships with my students. I serve as a role model and mentor for them. After school, my colleagues and I host a tutoring program where we provide 1:1 or group support for our students, assisting them academically and emotionally. We also lead and organize school-wide events that are meant to be interactive and enjoyable for the students.
What skills do you need to be successful in these dynamic roles? 
The skills you need to be successful in this role consist of being self-reliable and interpersonal. There will be a lot of time you are not being monitored so you are expected to be responsible with your work time. As well, a massive part of the job is connecting to your students and peers, so it is important you are willing to be open and vulnerable. Another skill you need is being a team player. The teams at each school site are small but we expect a lot from each other. You need to be someone that can work well and be patient with a diverse team.
Did internships, volunteer, leadership, or other work experiences provide an advantage in being hired for your first position out of college? If so, in what way? 
Internships, volunteer, and leadership experience are all valuable in being hired for your first position outside college. For me, I had volunteer work with DuckCorps and other outside organizations. Also, I led a club during my time at Oregon. I believe these experiences set me apart in my application process because they helped convey the skills I was trying to show I have. My volunteer work helped show my passion towards working in the non-profit sector and my leadership experience showed my team-player and leadership skills.
What advice would you give to students as they're figuring out what's next after college?
Some advice I'd give to students as they're figuring out what's next after college is to remember that what you may be doing next is not how it is going to be forever. So if you've landed a position you may not love but it pays well or you have to relocate somewhere new, just remember that it will not be like that the rest of your life. You will hop from one job to another many times and eventually you'll find your place. So take a risk now while you're young!
Any words of wisdom for your fellow Ducks while they're still in college?
Enjoy your time while you're there. Explore Oregon outside of Eugene, try new restaurants, spend time with your friends on campus, etc. Just make the most of your time there because it will be over before you know it.
---
To learn more about year of service opportunities with City Year, like becoming a AmeriCorps Member/ Student Success Coach like Daniel, check out City Year at the Year of Service Panel on February 9 and the Internships and Summer Jobs Fair on February 10.