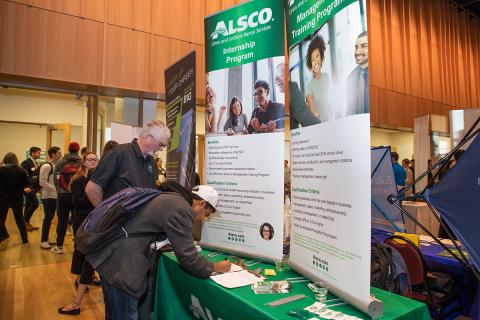 Alsco isn't a place to simply have a job. It is a place to build a career—one that you're proud of; one that energizes and motivates you. Alsco recruits driven students and recent graduates for rotational internships and graduate training programs. New employees learn the business holistically and can move into leadership quickly. UO alumna Sarah Liang, BS '21, is doing just that!
With the Fall Internship and Career Expo right around the corner, Alsco is eager to meet and interview their next cohort of Ducks. We caught up with Sarah to ask her to reflect on her career journey so far with Alsco, and give some advice for students applying to job roles different than what they majored in, and companies outside of their comfort zone.
Name: Sarah Liang
Graduation Year: 2021
Majors: Operations and business analytics and finance major, chemistry minor
Current Job: District manager at Alsco
What did you study at the University of Oregon, and how did your time at the UO prepare you for your career?
I was an OBA/finance major, chemistry minor. Studying at the UO gave me a lot of wonderful opportunities to interact with a wide swath of people, and exposed me to a lot of the intricacies of the business sector. It was a great place to create a strong foundation of skills I have utilized in the workplace, and I am grateful to all of the instructors and individuals I was able to interact with there for my personal development.
What attracted you to work at Alsco?
My now-friend, John Jaggi, recruited me to the team at one of the career expos. His character and positive demeanor, as well as his mentoring mindset, drew me to the company.
What do you like best about the company culture at Alsco?
There is a strong family feel to the workplaces at Alsco. While it may take a minute to get acclimated and create those bonds with everyone, once you're in, you're family.
What are you responsible for in your current role?
Currently, I am a manager within the service department and am responsible for customer relations, driver conduct, and coordination throughout the greater Nashville, Tennessee/Kentucky area.
What skills do you need to be successful?
One can never have too many tools within their toolbox! The greater your skillset, the greater your success and ability to contribute to the team. I've personally worked on machinery with our engineering department, climbed on trucks to cover routes, worked on spreadsheets, you name it. Nothing learned is ever wasted. Never stop learning.
Did internships, volunteer, leadership, or other work experiences provide an advantage in being hired for your first position out of college? If so, in what way?
I entered Alsco through their internship program. After working with them and proving my work ethic as well as demonstrating proficiency in a number of different areas, they decided to hire me on full time—even relocating me to my current location in Nashville.
What advice would you give to students as they're figuring out what's next after college?
Never be too proud to get your hands dirty and try. Youth is on your side, so don't be afraid to try something new and put some solid effort into figuring out what drives you and where you find joy.
Any last words of wisdom you'd like to share with other Ducks?
Stay grounded, stay human, stay teachable, and go with God.
---
To learn more about jobs and internships with Alsco, connect with recruiters at the Fall Internship and Career Expo on October 26 in the EMU. NOTE: Have your résumé handy. They will also be participating in Interview Day on October 27—they will give out first-round interview invites at the expo!